Aromaestro
An innovative diffuser 100% made-in-Québec
Developed and designed in Québec, the Aromaestro diffuser uses a high-performance nebulization process that provides optimal diffusion within your living spaces. Unique, elegant, silent and connected, it offers cutting-edge technology and fits everywhere. Feel the difference of a healthy environment every day!
Order a diffuser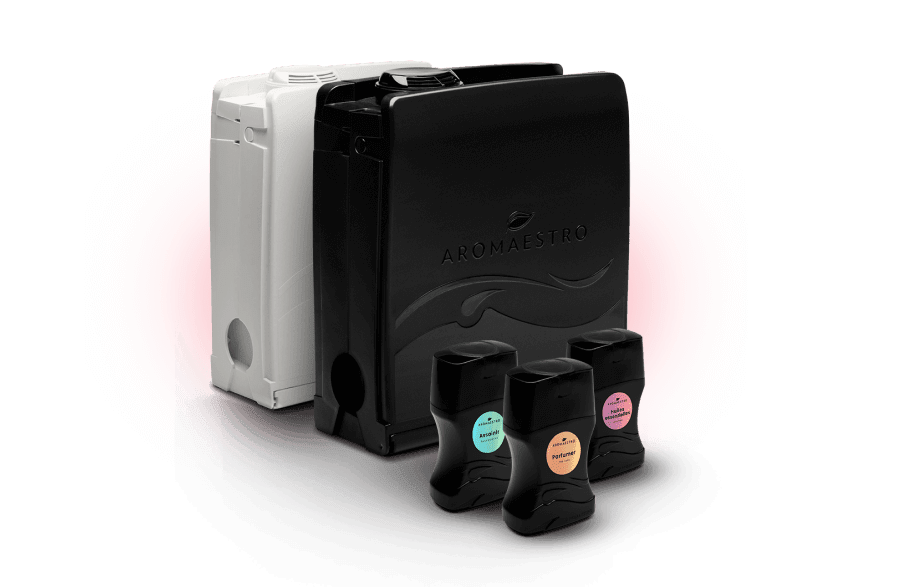 Our diffuser at your fingertips! Subscription package for diffuser and cartridges starting at 50$/month.
Renting a diffuser
All the luxury of pure and healthy indoor air starting at $50/month! Thanks to our diffuser rental option, enjoy our simple and accessible solution to sanitizing and refreshing your living spaces. This option also allows you to stay within your budget while taking advantage of our warranty and free updates!
Buying a diffuser
Our long-lasting diffuser's ability to provide you with exceptional ambient air makes it an investment of choice! With its state-of-the-art technology offering you refreshing air free of allergens and bacteria, our diffuser will become a staple in your daily life and define your well-being, year after year!
Are you hesitating?
Contact us! One of our specialists will guide you to the best product solution based on your needs. Whether it be for residential or commercial use, we will talk you through the optimal package for your home or workspace. Get a high-quality diffuser at a stunningly advantageous price!
Diffuser presentation
A diffuser that fits in anywhere!
With its versatile installation options, the Aromaestro diffuser is designed to match all settings. Thanks to its innovative design, you can enjoy efficient diffusion in spaces of up to 4000 square feet. Along with its elegant design and compact case, our outstanding diffuser is available in black or white, making it the perfect device for creating a most distinguished olfactory atmosphere.
Watch the video
Radio-frequency identification (RFID) technology
A smart, connected diffuser
Thanks to our cartridge built-in RFID chips, you'll be able to enjoy simple and efficient remote management! Your control panel allows you to select days, dates, times and diffusion intensities. In addition, you will receive level alerts to help you plan your cartridge supply. You can place orders via your client zone: it's quick and easy!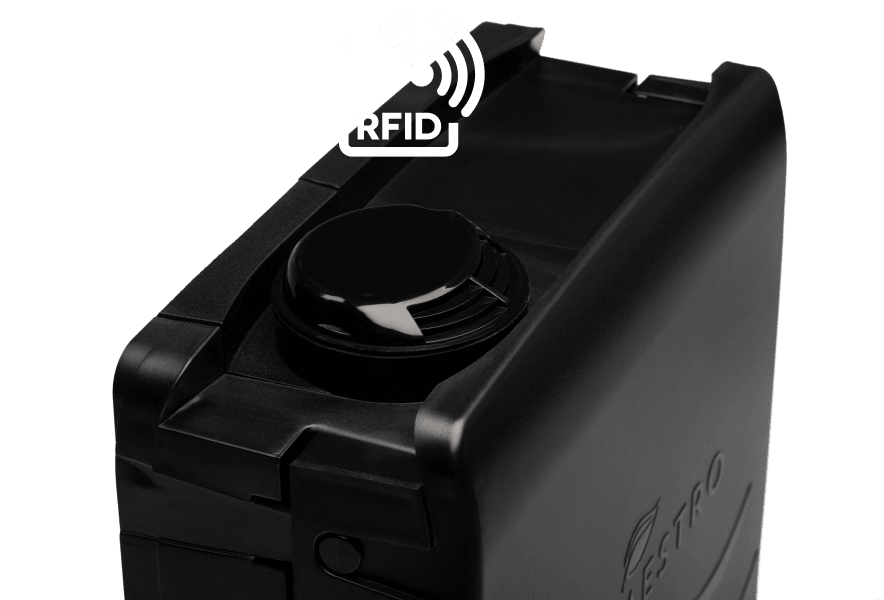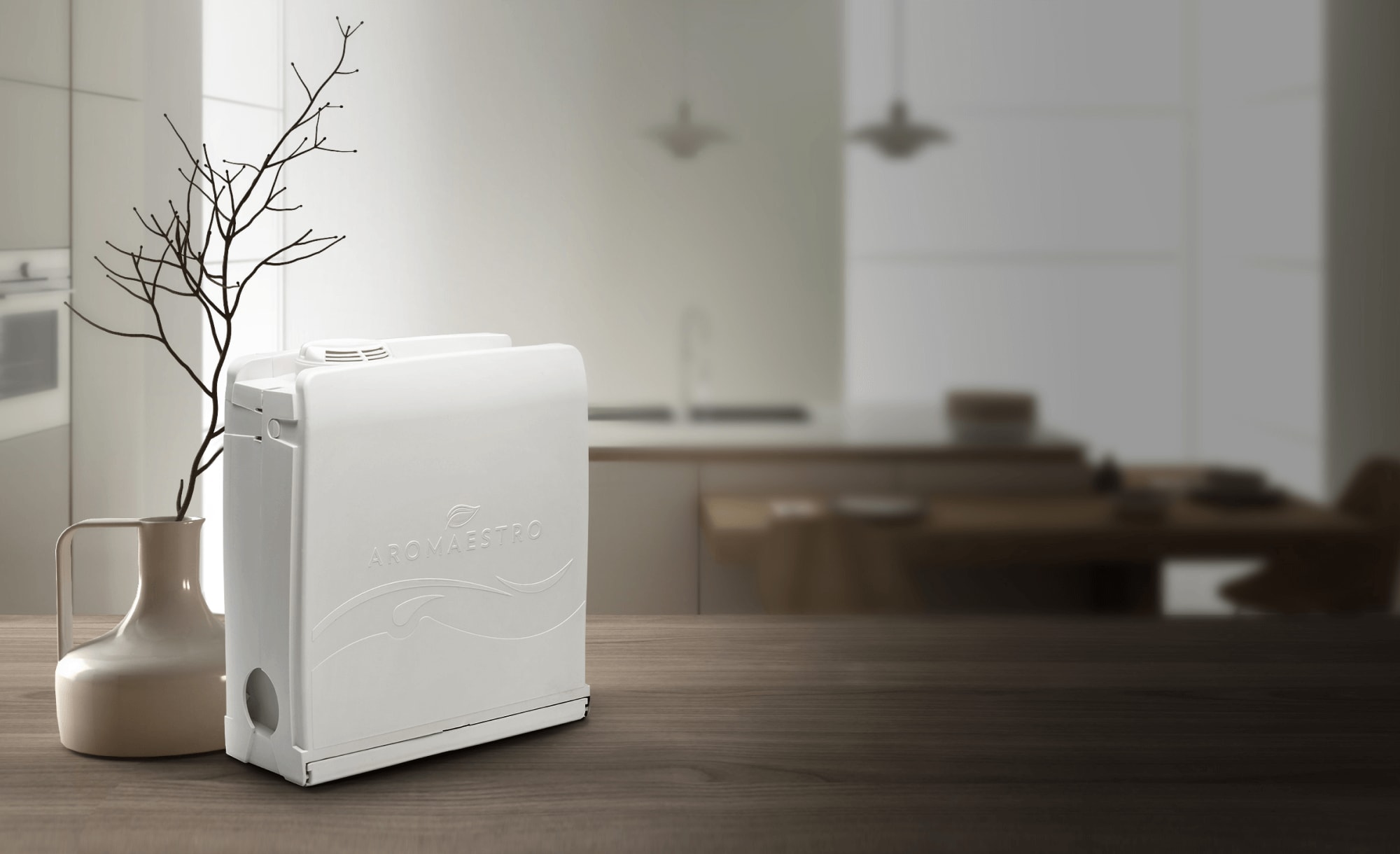 Technical specifications
Power supply
100-240V -50/60Hz 0.3A
Coverage
Approximately : 4000 ft² (400 square m²)
Recharge
Up to one (1) year of autonomy
Width
10.75 inches (27 cm)
Depth
4.25 inches (11 cm)
Weight
6 pounds (2.75 kg)
Warranty
One (1) year on parts
Download the installation and setup guide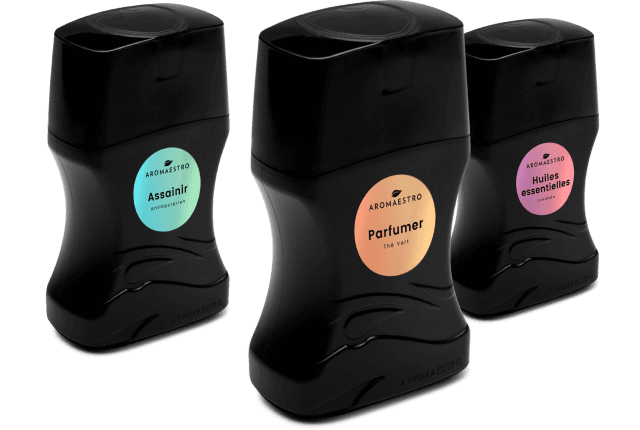 Revolutionary cartridges
A daily dose of freshness
Inside our cartridges, specifically in the head containing the high-performance nebulization chamber, is where you will find the fruit of Aromaestro team's tremendous research work! Our cartridges allow you to diffuse, perfume or cleanse ambient air without leaving a deposit. Thanks to the technology we use, you will be able to achieve your preferred olfactory intensity with a precision like no other devices on the market can provide.
Plug your cartridge, and take it all in!
Our cartridges are ready to use; all you have to do is remove the collars and insert your cartridge into the diffuser to enjoy a new olfactory experience. Replacing a cartridge is simple, fast and mess-free!
Compatible with fragrances, essential oils and neutralizers
Our diffuser allows you to choose cartridges from more than 20 exceptional fragrances, signature essential oils or our various Aro-Neutralizers.
No danger to your health
The cartridges contain high-quality natural ingredients that pose no danger to your health. They allow you to enjoy safe and healthy diffusion through nebulization.